Hi Friends,
Today I thought I would share my easy shredded chicken recipe with you. There isn't much to it, but it's very flavorful.
And EASY.
There is no work to this.
I don't measure anything, just add to taste, so here is what you need.
Ingredients:
Chicken Breasts
Stovetop Stuffing - chicken flavor
Cream of Chicken or cream of celery soup
Water or chicken broth
So your first step is to put your Chicken breasts in the crockpot on low with enough water or broth to almost cover them. Go to work for 8 hours… come home. Done.
Next, take them out of the crock pot and place them in the mixer. They fall apart when you do this so really you don't even have to break them up. But if they don't break just make them into large chunks.
Turn the mixer on low.
Shred chicken.
Walla.
See… told you no work. ;)
Next you want to season and wet with the stuffing mix and soup. I don't measure. I just add and taste. Add and taste.
So add and mix and taste until you get the consistency and taste you are happy with.
Back in the crock pot on warm for a few hours to really cook in the flavor.
Tada! Done.
This also freezes really well so don't be afraid to make a ton and save for later dates.
Until next time…
Carmen and the Primcats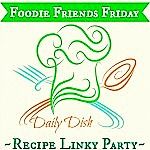 Hosted by
Walking on Sunshine